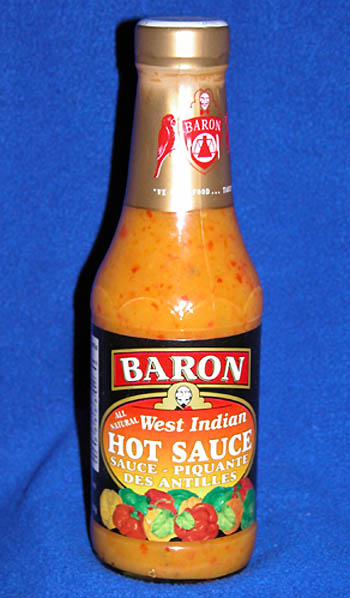 Baron's all natural West Indian hot sauce.
Award winning Baron West Indian Hot Sauce. A truly West Indian Hot Sauce made from fresh, wholesome peppers blended with mustard to create its very own individual piquant flavour.
The Scotch bonnet (Capsicum chinense) is reputed as the hottest pepper in the world. It is found mainly in the Caribbean islands, with a shape resembling a Scot's bonnet . Most Scotch bonnets have a heat rating of 150,000-325,000 Scoville Units.
Ingredients: Water, hot peppers, mustard powder, salt, starch, vinegar, garlic, onion, spices, FD&C yellow #5.
Available in:
397g / 14 fl.oz
794g / 28 fl.oz
Manufactured by:
Baron Foods, Ltd.
Vieux Fort Ind. Estate,
Vieux Fort, St. Lucia, W.I.
Tel: (758) 454-9230